Turbine Meters
The turbine meter is an indirect volume meter.  It consists of a freely rotating axial turbine wheel in a liquid flow. Common applications are the measurement of liquids and liquefied gases in the chemical, petrochemical, and petroleum industries, particularly at high operating pressures, high operating temperatures, and low viscosities.
---
RQ Series 1
Turbine Meter
View Bopp & Reuther product information
DN10 to DN65
RQ Series 1
Turbine Meter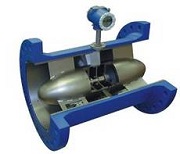 View Bopp & Reuther product information
DN80 to DN300
Turbine Meter Operating Principle
The turbine wheel is rotated by the liquid and spins at a rotational speed, which corresponds to the average flow velocity of the liquid.  The rotational speed of the turbine wheel is thus proportional to the volumetric flow and the number of revolutions is proportional to the volume.
The rotational movement is transmitted through the casing wall in a non-interacting manner to the outside by means of magnetic-inductive pulse pick up. A pick up mounted outside of the casing is used for this purpose. An electromagnetic field is generated with a coil located in the scanning head.
Turbine Meter Advantages
Proven, reliable measurement system
High measuring  accuracy
High reproducibility
Large flows
Inductive pulse pick up
Can be used for high operating overpressures, high operating temperatures and low viscosities
Contact Us for more information or a quote.