Oval Gear Flow Meters
Bopp & Reuther oval gear flow meters are a direct volume positive displacement (PD) meter known for accuracy and longevity in the field. This simple, robust design means the oval gear meter is stable in harsh environments and maintains accuracy regardless of the liquid temperature, changes in viscosity, or pulsating flow. Our oval gear meters average 40-50 years in the field without need for recalibration.
---
Universal Application
Oval Gear Flow Meter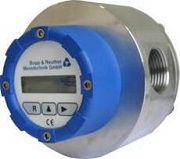 Industrial Custody Transfer
Oval Gear Flow Meter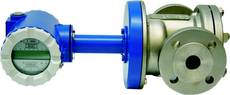 Series OaP Heavy Duty
Oval Gear Flow Meter
Oval Gear Flow Meters – Operating Principle
The measuring element of an oval gear meter consists of two toothed precision oval wheels which are driven by the fluid passing through the unit.  The number of revolutions is an exact measure of the volume.
Maintenance and recalibration requirements are minimal because of the lack of moving parts.  Often, the gear meter is selected over the Coriolis because of its accuracy and longevity in harsh environments where the Coriolis is susceptible to interferance from pressure or temperature changes and general wear.
Oval Gear Flow Meters in Action
Oval Gear Flow Meters – Common Applications
Chemical Production: caustic soda, potassium hydroxide, acetic acid, demineralized water
Food Industry: sugar solutions, syrups, oils, sauces, beverages, honey, molasses, milk products, juices, chocolate, alcohol, ethanol and coatings
Pharmaceutical Industry: alcohols, syrups, glycerines and coatings
Cosmetics Industry: shampoos, gels, perfumes and creams
Oil and Gas Industry: fuels, lubricants and petro-derivatives
Water and Wastewater Industry: chemicals, fluoride and acids
Pulp and Paper Industries: wax finishes, perfumes, dyes and acids in the pulp and paper industries
Printing: solvents and inks
Automotive: transmission fluid, glycol, low viscosity climatization liquids and hydraulic oil
Textiles: dyes, bleach and chemicals
Petroleum Industry: oils, gasoline, biodiesel, additives and kerosene
Paint: solvent and latex based paints
Shipbuilding: lubricating oil, fuels ,marine oil
Mining Industry: oils, fuels, lubricants
Metal Industry: heating oil, fuels, oils
Glue Industry: acrylic water based glue, solvents, cleaning agents
Contact Us  (For more information or a quote)